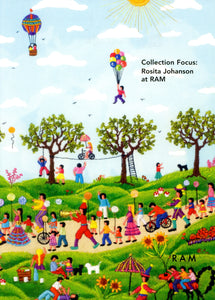 Collection Focus: Rosita Johanson at RAM
Rosita Johanson (1937–2007) was a Canadian fiber artist that worked as a dressmaker by trade. She applied her natural ability to work with thread and fabric to create colorful embroidered narratives full of people, animals, and activity. From the exhibition Collection Focus: Rosita Johanson, this 20-page booklet features full-color images of her pieces within Racine Art Museum's permanent collection, an essay on the significance of Johanson's work to the field, and follows her career development.
Drawing on childhood memories, imagination, and some topical political and social issues, Johanson would piece together a composition using appliqué, machine embroidery, and hand-stitching. Her designs, which often began as sketches, culminated in colorful layers of thread and fabric.
20 pages
Softbound
© 2012
Racine Art Museum
RAM MEMBER PRICE: $4.50
---
We Also Recommend