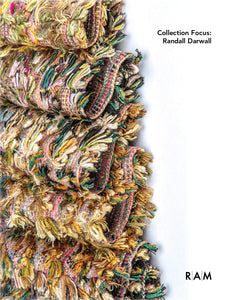 Collection Focus: Randall Darwall at RAM
Collection Focus: Randall Darwall is part of a collections-based exhibition series featuring artists whose work Racine Art Museum holds in-depth. This 24-page catalogue features full-color images of Randall Darwall's pieces within RAM's permanent collection, an essay on the significance of the artist's work to the field, and an interview between Bruce W. Pepich, RAM Executive Director and Curator of Collections, and Brian Murphy, Darwall's husband and business partner. 
A revered and beloved fiber artist, Randall Darwall (1948–2017) combined an early interest in painting with a poetic sensibility. He created one-of-a-kind textiles that were meant to be both worn and seen, somehow imbuing the threads with his own organic spirituality. This capacity would lead him to interweave, metaphorically and literally, elements of an artistic vision with the everyday—bringing his interest in color and texture in line with his strong belief that what he made was activated in its function.
24 pages
Softbound
© 2022 Racine Art Museum
RAM MEMBER PRICE: $4.50
---
We Also Recommend