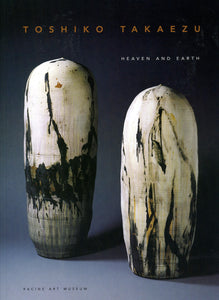 Toshiko Takaezu: Heaven and Earth
Toshiko Takaezu: Heaven and Earth was published in celebration of a substantial gift to the Racine Art Museum from American artist Toshiko Takaezu (1922–2011): the 14 closed-vessel forms from her most expansive grouping of work, the Star Series. These large-scale pieces—each named after celestial bodies—were the focal point of Takaezu's Heaven and Earth exhibition. The artist used a variety of glazing techniques, combining bold brush strokes with rich colors and delicate textures. Each stoneware form was shaped by hand and necessitated a combination of coil and wheel techniques—often requiring the use of a scaffolding as the pieces got taller. These colossal works ultimately took the artist 15 years to create.

Toshiko Takaezu was born in Pepeekeo, Hawaii. One of eleven children, she was raised in a traditional Japanese household whose values, as well as the surrounding Hawaiian landscape, strongly underscore her artistic practice. During her five-decade-long career, the artist worked in many media including painting, fiber, and bronze. However, her primary medium, and that for which she is best recognized, was ceramics. Takaezu was instrumental in the post-war reconceptualization of ceramics from the functional craft tradition to the realm of fine art. Her signature "closed form" merged the base form with glazed surface painting to create a unified work.
This 40-page catalogue features an essay by John Perreault and Star Series commentary by Robert Lentz. An artist signed edition is also available
RAM MEMBER PRICE—REGULAR EDITION: $45; SIGNED EDITION: $90.00
---
We Also Recommend