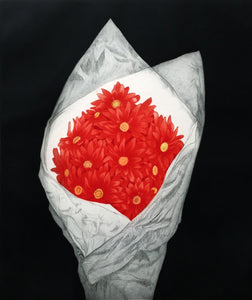 Beth Van Hoesen—Wrapped Flowers
Beth Van Hoesen (1926–2010) was known in printmaking circles around the world for her meticulous attention to detail in every aspect of printmaking as she viewed the unique view of the world around her. Known for her animal portraits, her other subjects ranged from people to landscapes, still lives, and botanical subjects which were all rendered in a similar realism. She worked mainly in print media, especially etching, using drawings extensively for preparatory work. Her style is lively and playful, with attention to the telling stories about her sitter.
In a career that spanned five decades, the artist—who was born in Boise, Idaho—produced nearly 650 graphics. While much of Van Hoesen's career was spent on the west coast of the United States, she has been widely recognized in national exhibition across the country. Her work is represented in the collections of museums known for their documentation of the graphic medium including the Art Institute of Chicago, the Brooklyn Museum, the Library of Congress, the Museum of Modern Art, the Victoria and Albert Museum, and the Racine Art Museum.
We are delighted to offer a select group of vintage prints through the Museum Store. Beth Van Hoesen's prints are unframed and will arrive in a flat portfolio.
Beth Van Hoesen
Wrapped Flowers, 1989
Aquatint, drypoint, and etching, editions AP III/V and 19/50
Image size: 16 3/8 x 13 7/8 inches; Paper size: 24 x 19 7/8 inches
RAM MEMBER PRICE: $900
---
We Also Recommend