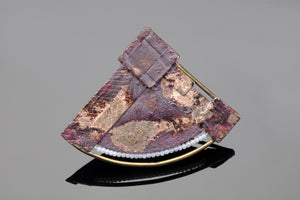 David Paul Bacharach—Woven Triangular Brooch
David Paul Bacharach has been crating unique woven metal compositions for over 30 years in his studio in the northern Maryland countryside. He draws his inspirations from a diverse range of artistic and cultural sources. His one-of-a-kind designs include gold, copper, pearls, and other elements that help him create his vision.
His works are in the collections of the American Embassy in Singapore, Monsanto Corporation, the Museum of Art and Design, and the Racine Art Museum. He has been featured twice on HGTV's Modern Masters, as well as, in articles in The Washington Post, The New York Times, The Baltimore Sun, and the Chicago Tribune.
Copper and pearls
2 x 2 1/2 inches
RAM MEMBER PRICE: $193.50
---
We Also Recommend