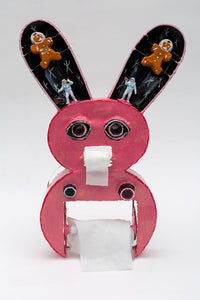 Bill Reid—Astronaughties T. Peep
Racine artist Bill Reid created the perfect toilet paper dispenser for any home, office, or outhouse. Astronaughties T. Peep holds one roll of practical toilet paper and one teeny tiny roll for display. This great pink bunny—on display through August 29 in the RAM 11th Annual International PEEPS Art Exhibition—is made of recycled steel and enamel paint, and will look fabulous on the wall of anyone's bathroom!
Recognized around the world as one of the leading fabulists in a self-quoted "fabulousy" world, Bill Reid has been making whimsical painted steel sculptures for over thirty years. As a youngster, he took a wrong turn somewhere and his mind has been wandering around in the bush ever since, playing around with creatures that follow an uncommon logic. This piece is no exception!
---
We Also Recommend