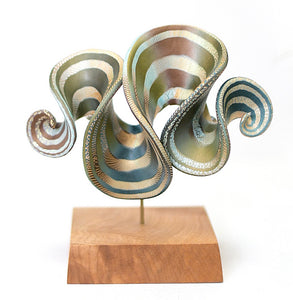 Elise Winters—Woodland Esprit Brooch on Stand
New Jersey artist Elise Winters (1947–2019) is known internationally for her jewelry created in the polymer medium. Winters began experimenting with this oven-curing clay-like material at that time and became one of a number of individuals, with professional art training, who explored the possibilities that this medium held for creating decorative arts objects and handmade jewelry. Winters' unique wearable pieces were part of a national movement among artists to explore the use of unexpected and non-precious materials, in unusual forms and scale, for the creation of personal adornment. She combined polymer with metallic paints and glazes to create intricate surfaces that fill her pieces with color, pattern, and shimmer. Her innovative works can be found in the collection of the Philadelphia Museum of Art; the Museum of Fine Arts, Boston; the Newark Museum; Museum of Art and Design, NY; and the Racine Art Museum. Her works are sold exclusively through the Museum Store at RAM.
Brooches from the Esprit Series come with their own maple wood display stands for presentation on a table when not being worn.
Polymer, acrylic, glaze, brass, and maple
RAM MEMBER PRICE: $855
---
We Also Recommend