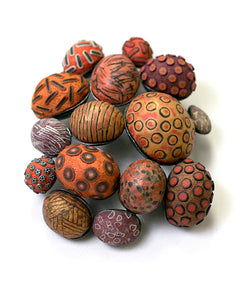 Ford and Forlano—Satellite Pin
These polymer masters are internationally known for the incredible patterned jewelry that this collaborative team creates in their respective studios in Philadelphia and Santa Fe. Trained as painters, they have been working together since 1984 to make complex cane cross-sectioned patterns to create neckpieces, brooches, and earrings. Their introduction of precious materials such as sterling silver, gold and pearls, makes their work is bold and expressive. Ford and Forlano strive to give each element in a piece its own diverse character while still making it look unified and whole. 
Satellite Brooch
Fifteen polymer orbs rest on a sterling silver base. Highly patterned, this autumnal colored brooch would be a perfect addition to any wardrobe.
Rusts, reds, yellows, and grey
Polymer and sterling silver
3 5/8 x 3 5/8 x 1 inches
RAM MEMBER PRICE: $864
---
We Also Recommend