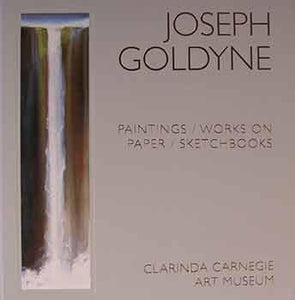 Joseph Goldyne: Paintings/Works on Paper/Sketchbooks
Born in 1942 in Chicago, Joseph Goldyne majored in art history at the University of California at Berkeley. Fearing he would be unable to make a living as an artist, he went on to earn an M.D. at the University of California School of Medicine in San Francisco. After completing his medical studies, Goldyne studied at Harvard, earning an M.A. in Fine Arts in 1970.
In 1973, his first solo exhibition of prints was presented at the Quay Gallery in San Francisco, a show that helped to bring monotypes to the public's attention. Goldyne produced a series of monotype books in 1976, and in 1985 he undertook a monumental book project titled Het Achterhuis/​Anne Frank: Diary of a Young Girl. It was shown in 1986 at the Jewish Community Museum in San Francisco.
This softcover text was published by the Clarinda Carnegie Art Museum in 2019. Hardcover color plates throughout.
RAM MEMBER PRICE: $45
---
We Also Recommend