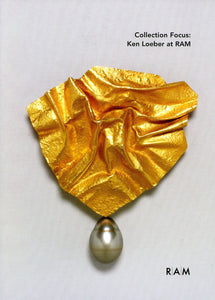 Ken Loeber: Exhibition Catalogue
Wisconsin artist Ken Loeber manipulates metal as well as other media such as coral, pearls and shells into compelling adornment, hollowware and flatware. Embarking on what has been described as a "sculptural exploration of mass and space," Loeber creates work that reflects both his observations of the world around him and his desire to craft compositions that are rooted in harmony and balance.
Loeber attributes his interest in defining and shaping form to a background in sculpture. Loeber's resulting body of work seamlessly blends one-of-a-kind brooches and lines of production jewelry with flatware and hollowware.
The core of this exhibition is a group of more than 30 pieces spanning the artist's career that have recently been promised to RAM's permanent collection. These works represent major stages in the artist's development from both his one-of-a-kind and production jewelry lines as well as his hollowware pieces.

Softbound
© 2010
Racine Art Museum
RAM MEMBER PRICE: $4.50
---
We Also Recommend