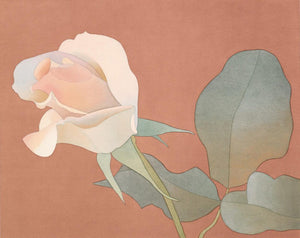 Mark Adams—Ivory Rose
Mark Adams (1925–2006) was born in Fort Plains, New York and attended Syracuse University. However, he left before graduation to study painting with Hans Hoffman in New York. Adams was drawn to tapestry early in his career. and studied with the renowned French tapestry designer Jean Lurcat in Aubusson, France. Over a 40-year period, Adams received commissions to create tapestries and stained glass for churches, synagogues, and office buildings throughout the San Francisco Bay Area.
In the mid-1970s, Adams searched for a more intimate and smaller-scale medium and he turned to painting in watercolor and making graphics. His paintings and prints are known for their delicate use of line and their luminous and vibrant but controlled use of color. His favorite subject matter was creating simplified depictions of everyday objects which he transformed through his clarity of composition. Whether working in wool, delicate watercolor washes, or printing inks, Adams creates pieces that document their time but are also timeless.
Adams' tapestries and works on paper are in the collection of the Smithsonian American Art Museum, the Library of Congress, the Oakland Museum of California, and the Racine Art Museum.
We are delighted to offer a select group of vintage prints through the Museum Store. Mark Adams' prints are unframed and will ship flat.
Mark Adams
Ivory Rose, 1989
Lithograph, edition of 112
Image size: 17 x 21 1/2 inches; Paper size: 25 3/4 x 29 inches
RAM MEMBER PRICE: $900
---
We Also Recommend