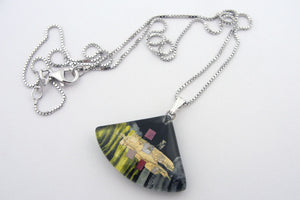 Momo Glassworks—Golden Phase Charm
Momo Glassworks blends fused glass techniques with elements of collage, cloisonné, and ceramics. They layer metal and mineral inclusions over the enamels as a way of extending their palette. The result is a rich and unique hand-painted mixed media canvas in a very tiny surface. RAM has chosen to focus on their Golden Phase Collection which loosely refers to a period of work in Austrian painter Gustav Klimt's career. The geometric expression of square and rectangular collage merged with the organic complexity of the enamel oxides is certainly reminiscent of Klimt, as well as the Byzantine iconography that inspired his own work.
Edo Mor and Rosario Torres are a husband + wife team from Western Massachusetts who work simultaneously in their rural studio creating this very modern work. Mor and Torres are advocates of upcycling, as over 50% of the glass they use is reclaimed from local window businesses.
The included 18-inch chain is rhodium-covered sterling silver and will not tarnish. Because of the unique nature of each panel, no two glass pieces are exactly alike.
We recommend cleaning these pieces with a soft cloth.
Glass
Black, gold, green, and raspberry
1 1/4 x 1 1/8 inches
RAM MEMBER PRICE: $40
---
We Also Recommend