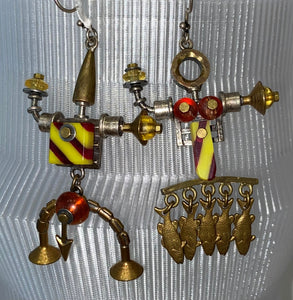 Swingles Earrings
These handmade earrings are made in New Orleans and are definitely a hoot. Swingles features Thomas Mann's iconic style and humor with these man and woman earrings that dance when the wearer moves. If you're looking for a unique pair of earrings for person who has an artful eye about everything they wear, look no further!
Approx. 2" in length
Found objects, hardware, brass, copper, sterling silver hooks
Thomas Mann has been in the vanguard of American art jewelry design for five decades. His compositions were among the first to focus not on the intrinsic value of precious metals and gemstones, but rather the idea and content. Following the collage/assemblage strategies of early-20th-century sculptors, he combines silver and non-precious metal elements with plastics and found objects. His distinctive wearable pieces - "jewelry objects," as he likes to call them - and his sculpture have been included in national and international traveling art exhibitions, collected by art museums, sold in shops, and worn by proud collectors worldwide.
---
We Also Recommend