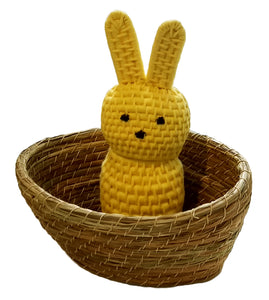 Tina Fung Holder—Waiting for Easter
When renowned artist Tina Fung Holder goes for a walk, there's always a chance some part of nature will come home with her. Once inside her apartment, dried grass is braided into cordage, red osier dogwood is bent into a frame, and the most malleable parts of nature take new shape and find new purpose.
This charming handmade basket hosts a bright yellow crocheted Peep who is patiently Waiting for Easter—and to go home with you! Proceeds from this piece will help fund RAM programming thanks to Holder's generous donation.
---
We Also Recommend