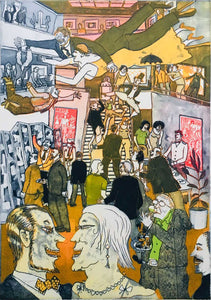 Warrington Colescott—The Night of the Artist
Warrington Colescott (1921–2018) has an international reputation for his etching work and beautifully drawn satirical prints that commented on political and social issues of his time. He was also known for making series of graphics devoted to specific subjects, including Lyndon B. Johnson's Great Society, John Dillinger, and the history of printmaking—recalling great graphic artists who preceded him, such as William Hogarth, Honoré Daumier, and the political cartoonist Thomas Nast.
During his 37 years on the UW-Madison faculty, Colescott became part of a group of artists and teachers responsible for the creation of the famed center for printmaking at the university campus. Colescott's energetic, colorful etchings can be found in the major print collections of museums around the world, including the Racine Art Museum. 
The Night of the Artist depicts Colescott's interpretation of the 1986 University of Wisconsin-Madison Department of Art faculty's quadrennial exhibition opening reception. Ceramicists Don Reitz and Bruce Breckenridge and graphic artists William Weege and Walter Hamady are featured in the print. This piece was commissioned for the 1986 Wisconsin Governor's Award in Support of the Arts.
We are delighted to offer a select group of vintage prints through the Museum Store. Warrington Colescott's prints are unframed and will ship flat. Because these are vintage prints please check with the Museum Store for condition reports.
Warrington Colescott
The Night of the Artist, 1986
Color etching, soft ground etching, and aquatint, edition 22/50
Image size: 21 x 15 inches; Paper size: 29 7/8 x 22 7/8
RAM MEMBER PRICE: $810
---
We Also Recommend